All businesses listed in this directory provide services to the Middle Peninsula.
- Please search by category or terms related to a company's service. -

1209 Baker Rd. Suite 503
Virginia Beach, Virginia 23455, US
1209 Baker Rd. Suite 503
Virginia Beach
Virginia
23455
US
Water damage can happen to any property. Home Mechanix, LLC is a dynamic team of professionals that can mitigate potential issues and protect your investments. Home Mechanix is fully insured and bonded and will get your building up to FEMA compliance. Evaluations are always free!
—
Home Mechanix, LLC has a Class B contractors license. We know FEMA mitigation codes and have successfully mitigated over 500 homes in Hampton Roads. We understand the diagrams of structures and the approach required to make properties compliant with the NFIP.
We have implemented several processes that make the mitigation paperwork headache much easier. One of which is a report that we provide for our customers called the Flood Mitigation Compliance Report. Our FMCR has all mitigation notes required by FEMA & the underwriters and gathers & displays all work performed by HMMX between the homeowner, the surveyor, the insurance company involved & with the underwriters, helping make the certification of the structure compliant. This has proven to be a tremendous help for all involved. Also Home Mechanix was a semi-finalist with RISE in 2018, 1 of 7 out 52, chosen for a patent pending idea that Home Mechanix presented for flood mitigation. We have currently filed 5 patent-pending devices that are directed toward flood mitigation, one of which our latest, we will be publicly displaying soon as game changer, market disrupter, for crawl spaces that flood regularly….stay tuned.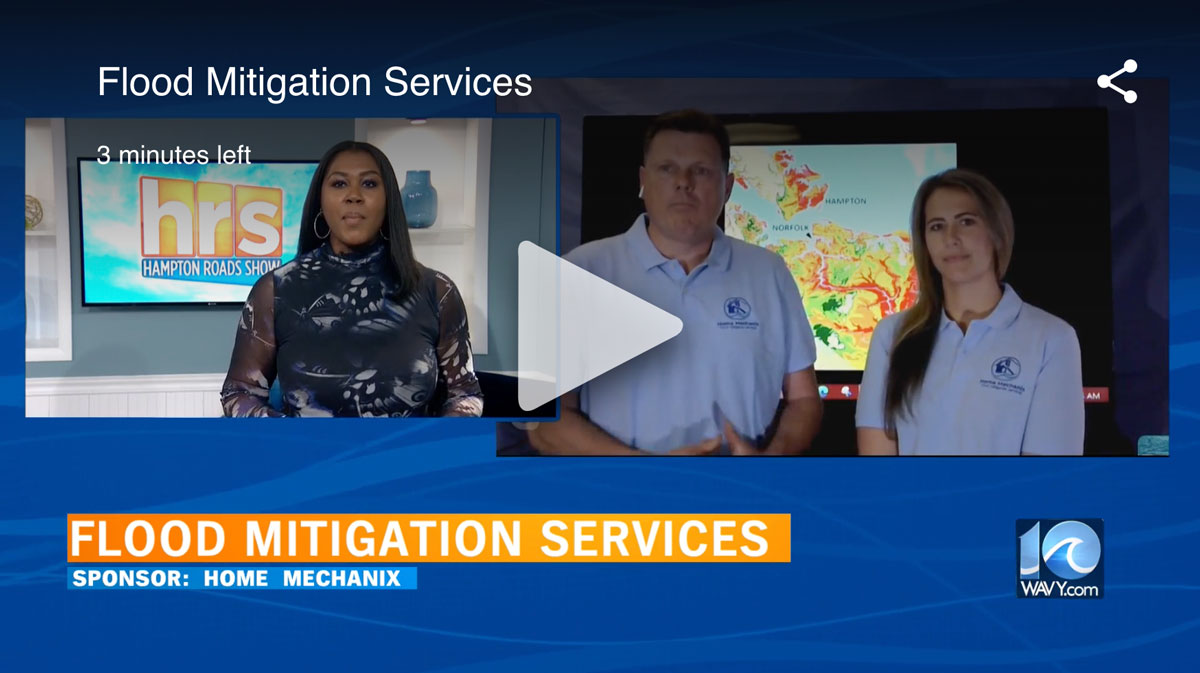 Click here to view our appearance yesterday on the Hampton Roads Show.
FEMA FLOOD MITIGATION SERVICES
• flood vent design & installation
• basement to crawlspace conversions
• crawl spaces & fills
• flood prevention
• flood proofing
FRENCH DRAINS
• dry wells
• mechanical drains
• crawlspace drainage systems
• basement drain systems
FOUNDATION REPAIRS
• pier supports
• foundation jacks
• joist sistering
• girder & seal repairs
• floor leveling
CRAWL SPACE REPAIRS
• clean outs & repairs
• vapor barrier installation
• ventilation systems
• insulation installation
• foundation vents & door repairs
• encapsulations